Obtain a 98% reduction in the ammonia load with BIOFIXE modules and an effluent of up to 0.5 mg/L in summer and winter.
No water heating required. No complex mechanical installation.
Submerge the BIOFIXE modules in your aerated lagoons, sequential batch reactors, or all other biological reactors—simple and efficient!
Are you a municipality, Northern community, industrial company, engineering firm, or organization involved in biological wastewater treatment and would like to receive technical information on the BIOFIXE system? Contact us today.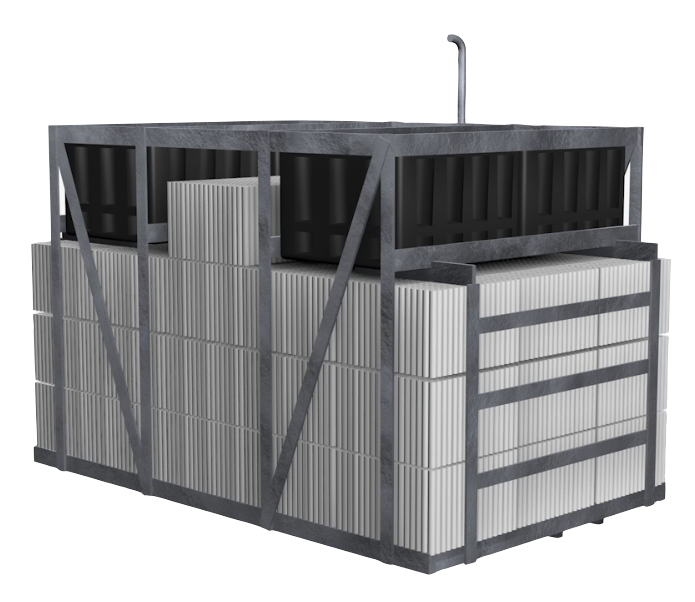 The BIOFOXE module features new technology developed by Technologies Ecofixe and the research community. Unlike any other system on the market today, BIOFIXE can meet the needs of municipal and industrial facilities, whether it is for existing or planned infrastructure.
The BIOFIXE solution can be installed alone or combined with the ECOFIXE system. The benefits include:
No new infrastructure needed;
Installation and commissioning in 1 to 2 weeks;
No treatment interruption during installation;
Assembly on site to minimize transportation costs.
Protection of aquatic environments
As the health of aquatic flora and fauna is one of our main concerns, BIOFIXE modules have been designed to remove ammonia, a contaminant that directly affects their survival.
By installing a BIOFIXE system, you will contribute to the protection of our ecosystems.
BIOFIXE also offers the following benefits:
Lower electricity consumption of your installations.

Made from materials that are partly recycled and fully recyclable.

Made locally, no matter where you are in the world.

Potential use solar energy for the aeration system.
Augmenting your wastewater treatment plant by installing BIOFIXE modules prevents new greenhouse gas (GHG) emissions. We will perform a life cycle analysis of your project to assess its impact. You can use this analysis, conducted by qualified professionals, to demonstrate your positive impact on the environment.
Efficiency and sustainability make BIOFIXE the right choice.
Contact us to learn more.
Facilitate the work of your teams
Technologies Ecofixe will provide training and support to your operators before, during, and after installation.
BIOFIXE modules require little maintenance that is easy to perform. Our solution was designed to ensure your autonomy and allow you to take control of your wastewater treatment operations—it's that simple.