The ECOFIXE modules can be installed in various municipal or industrial facilities:
aerated lagoons
sequencing batch reactors (SBRs)
activated sludge
oxidation ditches
Are you a municipality, Northern community, industrial company, engineering firm, or organization involved in biological wastewater treatment and would like to receive technical information on the ECOFIXE system? Contact us today.
Higher organic load treatment without adding new infrastructure
ECOFIXE modules can treat 95% of the organic load (BOD5) applied to them. Our team can help you determine the number of modules required to meet your current and future needs. Retain your financial capital and avoid oversized facilities. If you run out of capacity, simply add the required modules when needed. A truly flexible solution!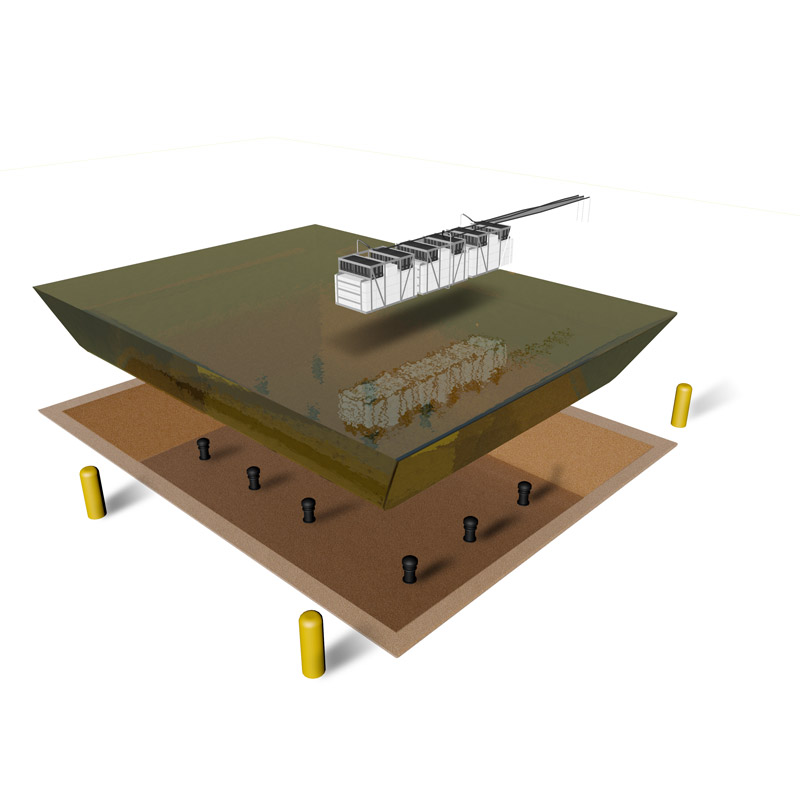 Modular solution, multiple benefits
With ECOFIXE, every aspect of your project has been considered to provide a solution that is efficient, reliable, cost-effective, and easy to install.
No new infrastructure needed.
Installation and commissioning in 1 to 2 weeks.
No treatment interruption during installation.
Assembly on site to minimize transportation costs.
Respecting your environment
ECOFIXE has been designed to maximize its positive impact on the environment.
Electricity consumption reduced by 20% on average.

Made from materials that are partly recycled and fully recyclable.

Made locally, no matter where you are in the world.

Potential use solar energy for the aeration system.
Augmenting your wastewater treatment plant by installing ECOFIXE modules prevents new greenhouse gas (GHG) emissions. We will perform a life cycle analysis of your project to assess its impact. You can use this analysis, conducted by qualified professionals, to demonstrate your positive impact on the environment. Efficiency and sustainability make ECOFIXE the right choice.
Contact us to learn more.
Facilitate the work of your teams
Technologies Ecofixe will provide training and support to your operators before, during, and after installation.
ECOFIXE modules require little maintenance that is easy to perform. Our solution was designed to ensure your autonomy and allow you to take control of your wastewater treatment operations—it's that simple.
Optimize at the building stage
Planning to build a new biological wastewater treatment facility? Optimize it from the design stage with the ECOFIXE system. Integrating our modules into your ponds during your project planning will help you maximize the benefits of our technology.
Build a facility up to four times smaller without sacrificing performance.
Significantly reduce construction costs.
Reduce energy consumption.
Avoid greenhouse gas emissions.
Preserve your territory while minimizing your footprint.
Have a new project? Contact us.